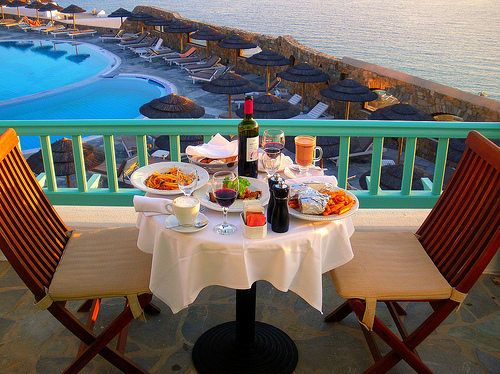 By UggBoy♥UggGirl [CC-BY-2.0] via Flickr.com
So you plan to make a romantic dinner for two and now you have no clue what to do. Here is a guide on how to prepare and execute a romantic dinner for you and your spouse. First you will need a pen a paper to make some lists, yes, some lists.
You will need to make a menu which consists of what you want to prepare
You will then need to make a shopping list
Then you will make a list of things you need to do on that day
Below are samples of these lists and a guide on how to execute them.
Your Menu
When planning any meal the first thing to think of is the food. What it is you will be serving/cooking. You see this all the time, you use it to order in a restaurant. Without a menu you will be like fish out of water. The menu helps you to get organized so that you don't forget what you are preparing or what you need to shop for. When making a romantic dinner for two, a full course is best but in case you are not very handy in the kitchen you can opt for a three course meal instead.
A five course meal includes:
1. Hors d'oeuvre
2. Light soup
3. Fish or chicken + vegetables
4. Chicken, pork or beef + starch
5. Desert
Sample five course meal
Course 1 - Hors d'oeuvre (choose one)
-Deviled eggs
-Carrot, cucumber and celery sticks with spicy avocado dip
-Light crackers with smoked salmon and goat cheese
Course 2 - Soup (choose one)
-Cold avocado soup
-Cream of onion soup
-Light chicken soup (stock)
Course 3 - Seafood or white meat (choose one)
-Sauteed shrimp and pasta
-Pan seared salmon
-Chicken Parmesan
Course 4 - Beef, Poultry or Pork (choose one)
- Beef tenderloin
- Grilled pork chops
- Cornish hens (omit poultry if you had chicken in the first course)
Course 5 - Desert (choose one)
-Frozen yogurt
-Mousse
-Tiramisu
If you are making a smaller meal omit the first and third courses. Serve a salad in place of course one and two, then remove course three. Your three course meal will look something like this:
Course 1: Soup or salad
Course 2: Seafood, poultry, beef or pork
Course 3: Desert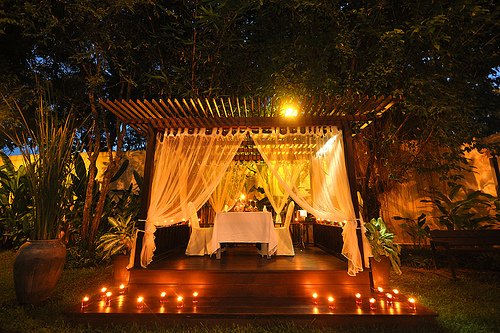 By Tara Angkor Hotel [CC-BY-2.0] via Flickr.com
Now you have an idea in which order each course is served you can decide how to prepare your meal. You will then find recipes to match your ideas. After you find your recipes you will then make a detailed shopping list. Omit the things you already have in your refrigerator or pantry.
After making your shopping list you will need to make a list of other items you need for decor and table such as candles, flowers, napkins, music, cutlery, table cloth. You will cross off the items as you find them in your kitchen or around the house. You may already have the napkins, tablecloth and cutlery. Add the other items to your shopping list.
Next, make a to-do list - here is a sample
Pick up flowers - 10:15am
Pick up desert at bakery - 10:30am
Barber/hair salon/nails (whatever fills this spot) 2:30
Now you can take this a bit further by adding a subcategory for making dinner especially for the five courses. Your first course should be pretty simple and you will make that first. Here is a sample which you can replace with your own cooking to-do.
1. Prepare meats by seasoning them. Put aside
2. Start cooking pasta/potatoes/rice
3. Prepare vegetables/salad. Place in refrigerator to chill
4. Make dressing
5. Make soup
6. Set table
7. Prepare entree
Now you have a guide how to handle preparing your dinner it should be easy from here. You can print a menu and give to your partner for keepsake to add a little interest to the dinner. Your menu should remind you how to serve your meal so you don't mix up the courses.