The summer season might be quickly coming to an end, but that doesn't mean you can't have one last shebang under the sun. Besides, look on the bright side: end of summer bathing suit sales are ramped and finding a beach-front hotel with glorious views of the glistening ocean are offered for way cheaper prices. But hurry- these sales won't last, and the delicious warm summer weather won't either!
One-Piece Swimsuit
Whoever said that one-piece swimsuits weren't entirely sexy will be biting their tongue after taking a gander at this lovely one-piece suit. The ASSETS by Sara Blakely Women's Halter 1-Piece Ruffle Swimsuit in Magenta is a heartbreaker.
With its adorable ruffle accents offering a flirty theme and an alluring halter strap, it's ideal for a swim under the sun. It's only $24.98 right now when you shop at Target online, and when you add-on special Target coupon codes you can save even more on your one-piece swimsuit purchase.
Two-Piece Swimsuit
Die-hard two-piece swimsuit fans will fall head over heels over this delightful number. The Hula Honey Swimsuit, Bandeau Colorblock Twist Bikini Top screams summer style. With an interlocking dual-toned bandeau featuring a combination of two stunning pastel colors (which just so happens to be the hottest look of the season) and an equally hot pair of bottoms to match, this two-piece swimsuit is simply a must-have.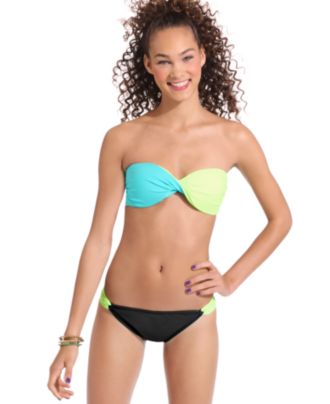 Choose between two vibrantly created patterns including a teal-kiwi combo or pink-orange combo and spend just $19.98 ($9.99 when sold separately) when shopping the Macy's swimsuit blowout sale. Don't forget to rack on the savings with Macys coupons.
Sandals
What's an adorable swimsuit without a pair of lovely sandals? Well, you're in luck! No beach bum would be caught dead without rocking a pair of these cute sandals from Steve Madden, available at Famous Footwear for a limited time of only $54.99.
These gorgeous flats are at the height of fashion popularity, showcasing the ever-so-popular 'gladiator' look with plenty of straps and studs. The perfect match for any summery outfit, pants, skirts, shorts, and suits alike.
Sunglasses
Shield your eyes from harmful rays while you have loads of fun under the sun! Shop EBay.com (especially with eBay Coupons) to find some amazing deals on sunglasses before your trip. Find the latest trends for cheap from top-name brands including Guess and DG. Aviators, Cat-eyes, and oversized shades are all waiting for you!
Location
So now that you've got an undeniably cute swimsuit and a pair of devilishly awesome sandals, it's time to decide where you and your buddies will head to. For a limited time only (until September 22nd), you can save up to 55% on all-inclusive trips when you buy from Orbitz.
They have tons of miraculous beach vacations starting from the low hundreds at some amazingly gorgeous and exotic locations including Cancun, Dominican Republic, Jamaica, Bahamas, and more. It's easy to book and secure your spot, and when you throw valid Orbitz coupons you won't believe your eyes. Summer vacations never looked so cheap!