Summer is quickly coming to an end, which means it's time to go through the closet! Get rid of your tank tops and shorts and slip into this sexy plus size outfit, perfect for combatting cold weather.
Shirt: Button Shoulder Tunic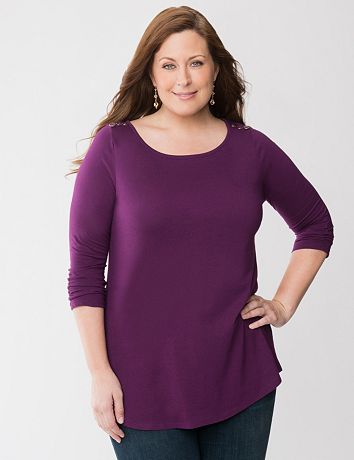 Sometimes it's nice to sit back and enjoy the finer things in life, which brings us to the first part of our sexy fall outfit: the Button Shoulder Tunic from Lane Bryant. This subtle, yet lovely top comes complete with half-sleeves: just perfect for fall weather. Available in a gorgeous purple, bright red, and glorious black shade, this button shoulder tunic is a must-have. Accented with trendy buttons across the shoulders, it's sure to be a hit for only $34.95 (use special Lane Bryant coupon codes for even more savings!). Plus it matches oh-so-perfectly with the Olive Studded Military Vest, item number 2 on our outfit list!
Vest: Olive Studded Military Vest
It's the perfect accent to almost any outfit, perking up any 'dull' look and making it a show-stopper. The Olive Studded Military Vest from Torrid is nothing short of sexy- giving you that 'camo' look without going overboard. You might not be able to drive a tank, but you'll drive men wild with this adorable accent vest. Did I mention how incredibly slenderizing it is? That's always a plus when it comes to fashion and women! It's only $54.50 (even cheaper when you use Torrid coupons) and it's one of Torrid's top selling items- of course, why wouldn't it be?
Bottoms: Genius Fit Distressed Skinny Jeans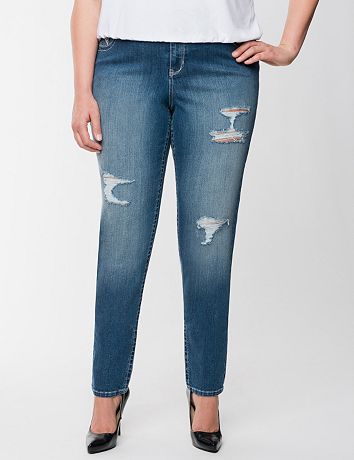 Nothing goes better with the rugged look of camo than distressed jeans. With these edgy skinny jeans from Lane Bryant, you can achieve a fierce style that still remains feminine. These Genius Fit Distressed Skinny Jeans are made to contour to your womanly figure, hugging your curves in all the right places and keeping its shape- not like those other jeans that tend to loosen up and bag (who wants that?). Right now you can get 2 of these sexy jeans for only $69. Add on a Lane Bryant coupon code (20% Off) and you are in for some serious savings!
Shoes: Peep Toe Studded Booties
Why should the studs have to end at the Olive Studded Military Vest? If you really want to complete this style right, you've got to get your hands on these stunning ankle booties. Designed with an alluring peep toe and sophisticated man-made materials, the Peep Toe Studded Booties from Torrid are a must for any fall wardrobe. Embellished with a few studs along the chunky heel, these shoes offer an appeal unlike many others. They are only $54.50 and these, too, are another one of Torrid's top selling items.
Accessory: Beaded Elephant Charm Bracelet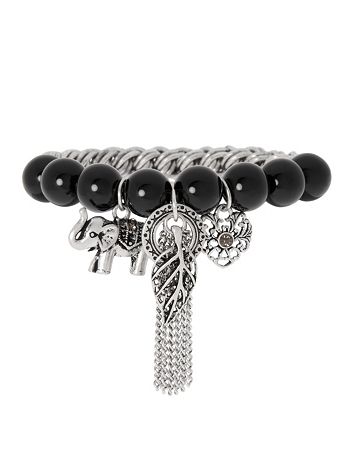 This gorgeous bracelet is the finishing touch. With a series of bold, black beads accented by dazzling charms, the Beaded Elephant Charm Bracelet is an eye-catcher that is sure to please. Only $19.95!
Camouflage is definitely an all-time favorite style. Are you a lover of the military look or do you prefer a more girly style?